Meriwether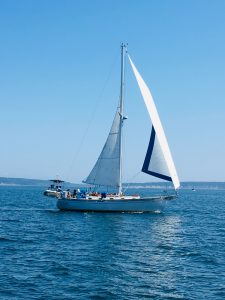 This is our 1978 Baba 35 (aka Flying Dutchman 35). She was designed by Bob Perry and the very first Baba 35, (hull #1), built by the Ta Shing company of Taiwan. She is a 35 foot long double-ender, cutter rigged, full keel, blue water capable boat. Previously named "Bordeaux" when we purchased her in 2018, and "Ceremony" even further back, she still has all the original teak decks and interior to show off. The previous owner(s) took great care of the boat over the years and were good records keepers. It has a V-birth as well as a small quarter-birth. She can hold 75 gallons of fresh water as well as 50 gallons of diesel fuel in her tanks. Speaking of the diesel, it is an (original?) inboard Perkins 4.108 motor – a true work horse of it's time.
If all the salty sailor talk doesn't mean anything to you, scroll down for explanations.
Since taking possession of Meriwether we have replaced all the lines onboard, upgraded all the lighting to LED, some of the plumbing, converted the ice-box to a fridge, installed a Lithium house battery, added a solar setup, and added in a whole array of 12-volt and inverter-powered outlets so we can easily live and work while at sea.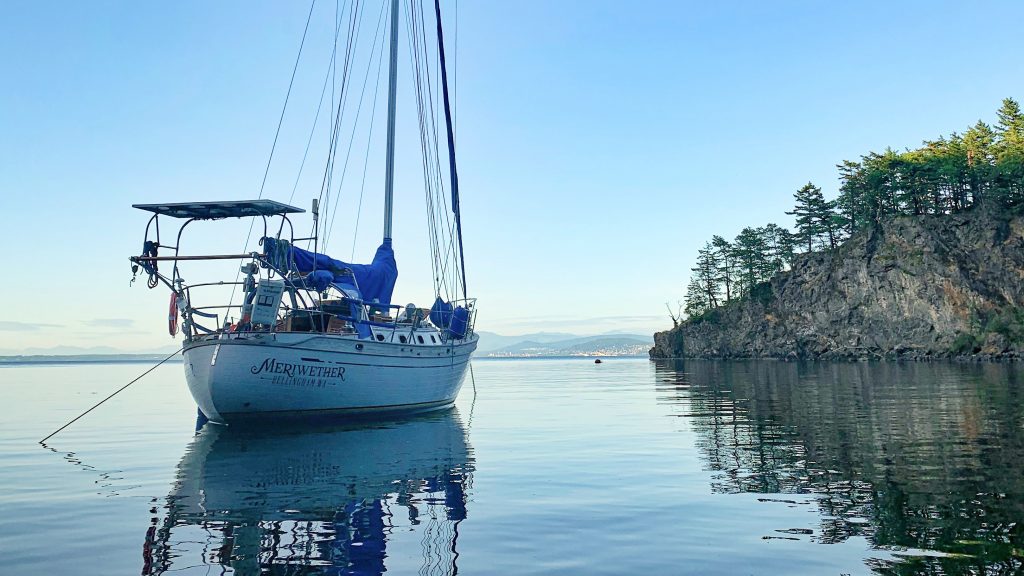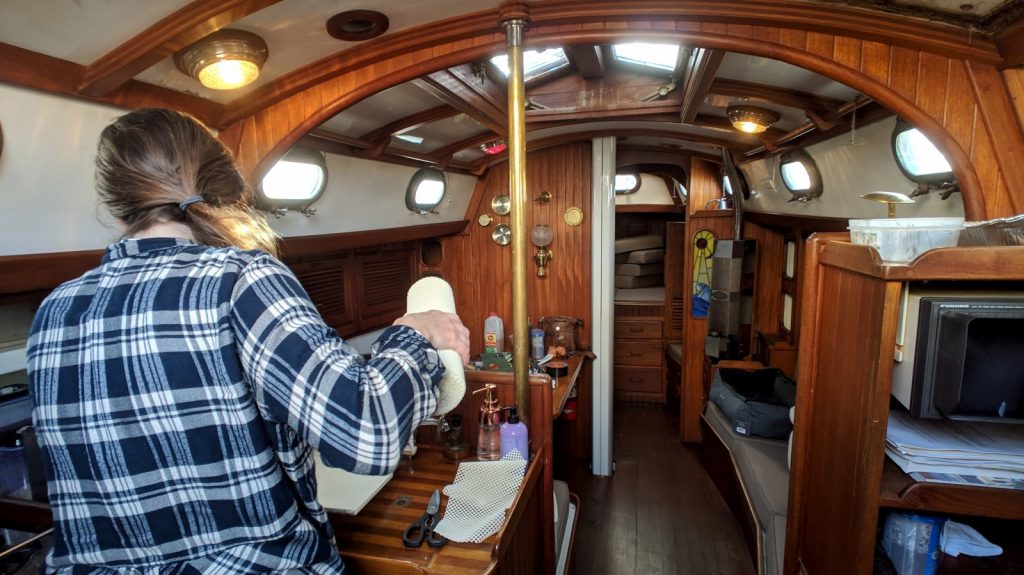 Salty definitions
Cutter rigged – A cutter boat has three sails. A mainsail, headsail, and a staysail. More sails equal more speed although is more complicated to sail.
Double-ender – aka a canoe-stern; the rear of a double-ender has a rounded shape as opposed to the flat cut away shape of a transom.
Keel – The keel of a sailboat is the large fin at the bottom of the boat. It is weighted to offset the wind's forces on the sails above the water. A full keel means it runs most of the length of the boat under water, giving more straight line stability while sacrificing some maneuverability.
Blue water capable – This is just one way of saying the boat is capable of safely crossing oceans.
Quarter-birth – A bed or cabin at the rear of the boat.
V-birth – The cabin at the front of the boat. V-shaped because of the shape of the bow.